In my book "Improv-ing Agile Teams" I wrote about the crossovers between improvisational theatre and the world of agile coaching, and just lately I have been creating new course materials for a new facilitation course (coming soon, watch this space!!) and I was so pleased to see so many improvisational concepts as part of the course learning objectives. I thought I would share a few of those concepts as part of a blog post for any readers out there who are looking to widen their facilitation knowledge and skills.
What is facilitation?
Facilitation is a process of guiding a group or team through interactions that help create meaningful outcomes. The verb "facilitate" literally means "to make easier".
Facilitation in practise is very much about being alive and adaptable to what is going on in the room (or virtual space) in that moment and being able to adjust our style, plan or agenda at that time. A facilitator requires many skills and attributes as they may need to navigate uncertainty, silence, conflict and many other unplanned situations as they arise.
Which improvisation concepts apply to facilitation?
There are many possible connections I could write about, but I will summarise being "in the moment" down to four skills which I think both great improvisers and facilitators should be working on.
Listening: Really listen to what people are saying, and don't just wait for your turn to talk. There is a depth to listening which we rarely dive into in day-to-day life so ensure you are fully engaged in what your audience is saying. Minimise outside distractions if you can, and encourage others to do so too so the entire group stands the best chance of really hearing what is being said.
Emotional Awareness: In order to best serve the group you are facilitating, you need to be in tune with their needs. That involves strengthening your own levels of emotional intelligence and awareness. We don't have to be an expert ourselves, but we should encourage the group to also check-in which each other on an emotional level, so that your audience can recognise those needs themselves too. These skills will help the group recognise resistance to an idea, gratitude in the form of a compliment, or maybe just tiredness when the group needs to take a break from the session.
Observation: There is a lot going on in that room, both verbally and non-verbally. Our skills of observation will really be tested so we can pick up on who is engaged and who isn't or who might be in agreement and who isn't. These skills are much more at home in a physical room (if you have that luxury when you are facilitating) as more of our senses are in play to "read the room". However many of us will have to facilitate sessions online, where we are largely relying on our eyes to observe our attendees through a small window on our computer screen or device. We are much more likely to miss non-verbal signals or offers when facilitating a group online – especially if cameras have been turned off!
Recollection: This is a skill which I don't see many practitioners rehearse very often. However, some of the best facilitators I have worked with, are able to recall moments or quotes which a group member made earlier in the session, and bring that information into the present. In improvisational theatre, this is known as "reincorporation" when an actor brings back an "offer" from earlier in the performance – much to the audience's delight! In many of my workshops, I will actively practise memory games to help me facilitate more effectively.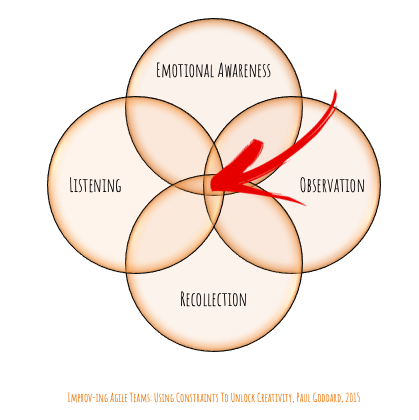 Being "In the Moment"
I believe the sweet spot for facilitators and improvisers alike, is where all four of these skills are in play and are fully available to you. Improvisers call this sweet spot "being in the moment" where you are completely alive to whatever is happening "on stage", and I believe facilitators need to step into a similar mode when they are facilitating a group.
Keep your eyes peeled on this website for details of a new facilitation course I have written, where you have the chance to practise all of these skills and strengthen your range as a facilitator.