Learn how customers and business partners can use Scrum to help drive results. This course covers the fundamentals of the Scrum framework for agile project management, with more emphasis on the role of the Product Owner.
You have the option to attend either an IN-PERSON training event or book onto the ONLINE version of the course, both of which are two days in duration.
This course is aimed at those likely to be undertaking that role on a Scrum project, or those looking to improve their skill as a practising Product Owner.
This course is popular for clients who need closer collaboration between the customer and the delivery team, in order to focus on priority work and sustain high quality solutions.
Delegates will benefit from a balanced blend of theory and practical exercises which promote the importance of the Product Owner role in the Scrum team.
From our extensive experience of running both online and in-person training, we have developed and iterated on a training style to manage both your energy level and attention span! By using self-led exercises and group discussions we aim to ensure you get the most of your training experience.
The course will be a mix of theory delivered by slides and exercise-based learning. Although each course we deliver is slightly different and tailored to our delegates needs and circumstances, the core agenda of the Certified Scrum Product Owner (CSPO) class set out by the Scrum Alliance must include the following:
What is Scrum?
Product Backlogs
Release Planning
Product Visioning
User Stories
Personas
Prioritisation Techniques
Estimation Theory
The Product Owner Role
Reporting & Release Management
Product Managers, project managers, account managers, sales teams, programme managers, client representatives etc. As this course focusses on the Product Owner role, those with direct customer engagement and budget responsibilities will gain most from this course.
A basic grasp of agile principles may help, but is not essential for this course.
For IN-PERSON events, this course will be delivered in a large, well-ventilated conference room. The number of places available for this course is based on attendees working at a safe, social distance throughout the course.
The venue/s we have carefully selected for these events have been chosen based on updated health and safety protocols to ensure your safety and peace of mind.
All of the learning materials you will need will be supplied for this course, including student handouts, pens and drawing equipment. You will not need a laptop or device for this course.
You may wish to bring your own hand sanitiser and/or water bottle if you prefer. Full details of the venue will be sent with your joining instructions shortly before the course date.
Attending the ONLINE version of this course is simple, you just need access laptop/PC with a stable internet connection, audio/video and microphone capabilities.
We use ZOOM as our video conferencing tool of choice, and miro.com for sharing the course materials. We advise our attendees to download the client versions of these tools onto their machines before the course if possible, however both tools can be accessed via most web browsers.
We will send you a digital version of the course notes which you can print off if you like, but this is not mandatory.
Full details of the tools we use during the course (only with setup instructions) will be sent with your joining instructions shortly before the course date.
Where can I attend a CSPO class?
You have the option to attend either an ONLINE version of our CSPO or to join one of our IN-PERSON events, both of which are two days in duration. Can you read more about the difference between these types of delivery in the PRE-REQUISITES tab.
What is a CSPO?
This course is endorsed by the Scrum Alliance, Inc (www.scrumalliance.org) and on completion entitles the delegate to claim a Certified Scrum Product Owner (CSPO) license, valid for two years.
Is there an exam?
No. The CSPO accreditation is achieved by attending this two-day course and participating fully in the exercises and class discussions.
Is my booking refundable/transferrable?
Yes. We will issue a full refund if you cancel your booking 30 days before the course starts. However, cancellation (or no-show at the event) after this time you will result in you being charged the full amount due.
At our discretion, we may transfer your booking to another scheduled course date, providing payment has been received.
Where can I contact the organiser with any questions?
Get in touch with us directly if you have any more specific questions, and one of the team will be happy to help.
Course Info
Level: Beginner
Duration: 2 Days
View dates
Your trainer(s)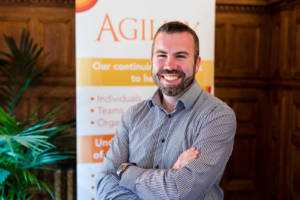 Paul is the founder of Agilify, has been an active Certified Scrum Trainer since 2006, and also became only the fourth UK-based Certified Scrum Coach in 2011.
Other Courses