Improvisation. The mere mention of the word makes many people quake with fear at the prospect of chaos and uncertainty. The fact is, though, human beings are improvising almost every minute of their lives—it is more natural, and more filled with possibility, than you might imagine.
On stage, improvisational actors use simple rules, collaborative principles, and game constraints to build unscripted yet intriguing storylines. This course explores how those same simple rules and principles can help agile teams collaborate more effectively and how purposefully working within constraints can unlock creativity.
Through this training, you will learn:
The parallels between improvisational theatre and agile development
How to engage more with your team members
Resilience from accepting failure and being positive
How to collaborate through co-creation with others
Creative problem solving techniques and coaching styles
These objectives will be met through a mixture of improv games that attendees will play, and structured debriefs with other attendees and the trainer. Attendees will experience activities that will build confidence, release creativity and raise communication skills.
Raise your communication skills from adequate to truly outstanding, and take your presentations from competent to effective and compelling. Improvisation concepts include engagement, transformation, presentation, teamwork and leadership skills development.
Each session will be a mix of improv games, group debrief and discussion and will centre around one of the following five themes:
Session 1 – SAFETY: how accepting failure is essential to discovery 
Session 2 – SPONTANEITY: how to increase the flow of ideas 
Session 3 – STORYTELLING: how narratives help teams relate to their customers and end users 
Session 4 – STATUS: how adjusting personal behaviour can encourage collaboration 
Session 5 – SENSITIVITY: how to become more fully engaged with fellow team members
Attendees will be expected to join in with these games, with the emphasis on having fun and playing with these concepts in a safe environment.
This course is applicable for any and all members of an agile software development team. The skills provided will be useful in life as well as in a professional context. As such, this course has no set pre-requisites and is suitable for improvisers with all levels of experience.
Those who may get even more benefit would be those attendees who have the responsibility for leading an agile team, such as scrum masters, product owners, agile coaches or trainers.
There are none! All you need for this course is an open mind, a strong sense of adventure, and a willingness to step out of your comfort zone when it comes to public speaking and interacting with others.
For in-person courses, joining instructions will be sent to you by email as soon as we receive your booking.
Attending the online version of this course is simple, you just need access laptop/PC with a stable internet connection, audio/video and microphone capabilities.
We will be using ZOOM for these sessions – which you can access by a web browser or by downloading a desktop client. We do recommend downloading the desktop client to enable the full suite of features that ZOOM can provide.
Full login details for your session (with appropriate setup instructions) will be sent with your joining instructions.
Q. How will this course be delivered?
A. We run this course both in-person and virtually using the ZOOM conferencing tool. Virtual delivery sessions are usually split into 90 minute sessions – one session forms one module of the course syllabus.
Q. Do I have to do all the sessions ?
A. No. The course is designed so that each module is loosely-coupled… meaning that each module can be completed in isolation. However, you must attend all FIVE sessions of the course in order to be certified and attain the Improv-ing Agile Teams (IAT) digital badge.
Q. Do I have to do the sessions in order?
A. No. The online version of this course is modular and designed to allow trainees to pick and choose sessions that are of interest to them. Pick one, pick three, pick them all… and do in any order you wish! The in-person version however will be delivered in order determined by the trainer.
Q. Can I claim Scrum Education Units (SEUs) against this course?
A. Yes. As we operate as a Registered Education Provider (REP) of the Scrum Alliance, you can claim SEUs for each module you attend which will help you maintain your Scrum Alliance certification/s. If you attend the course online, each 90 minute session is worth 1.5 SEUs and if you attend an in-person course this is worth 8 SEUs.
Q. Do I need any improv or acting experience to attend?
A. None at all. All of the sessions are designed for agile practitioners looking to develop advanced soft-skills. They are therefore appropriate for novice improvisers, but equally suitable for seasoned actors!
Q. I can't see dates that are suitable for me. Will others be added?
A. We are adding dates all the time so more dates will be available soon. Please contact us for more information on future dates for these sessions.
Course Info
Level: Beginner
Duration: 1 day
View dates
Your trainer(s)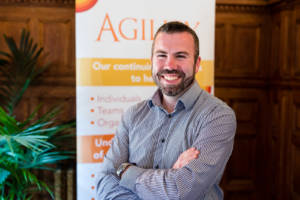 Paul is the author of the book, "Improv-ing Agile Teams: Using Constraints To Unlock Creativity" on which this course is based.
Paul is the founder of Agilify, has been an active Certified Scrum Trainer (CST) since 2006, and also became only the fourth UK-based Certified Enterprise Coach (CEC) in 2011.
Other Courses