Experience an online retrospective facilitated by one of our expert agile coaches to demonstrate how a series of word prompts can help deepen your retrospectives.
Experience a new kind of team retrospective – let our expert agile coach, Paul Goddard, lead your agile team through your next retrospective.
Sit back and allow a seasoned (and neutral) facilitator take control of your next retrospective discussion – maybe even giving you the opportunity to contribute yourself as an attendee.
We will a design a retrospective suitable for you and your team, and also send you a FREE pack of The Retrospective Lexicon cards to use after the event!
Our facilitator will work with you to gather some information on you and your team prior to the event. Based on that data, we will design a 2 hour retrospective for you and your team to attend and participate in. We will also capture any data for you online and send you a digital copy of any notes gathered during the session.
Any scrum team or scrum master who feels they would benefit from a neutral facilitator during a retrospective. This may allow regular facilitators to attend or abstain from team discussions.
As the session is held online, you will need access to a web browser. We will be zoom.us and miro.com which can be accessed via a web or desktop client.
Q: Do I need access to any tools for this event?
A: You will need access to ZOOM and miro.com for the session. These can be accessed by either a web or desktop client.
Q: How do we decide on a date?
A: You may wish to pick a date which aligns with the end of your sprint, or you can retrospect at any point should a particular team issue be present.
Q: How do we decide on a time?
A: Once you have booked and had your date confirmed by email, you will be sent a link to book a time with our facilitator, which is suitable for you and your team.
Course Info
Level: Whole Scrum Team
Duration: 2 hours
View dates
Your trainer(s)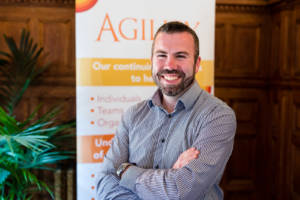 Paul is the founder of Agilify, has been an active Certified Scrum Trainer since 2006, and also became only the fourth UK-based Certified Scrum Coach in 2011.
Other Courses