Deepen your theoretical and practical experience of the servant-leadership and coaching role that is the ScrumMaster.
This Certified Scrum Professional course is aimed at those in a servant-leadership and coaching role who are looking for a deeper range of enabling, facilitation and coaching skills. Split over three modules supported by deliberate practice and optional supervisory coaching sessions, you will get the chance to learn new skills and deepen existing skills that will make you a more effective servant-leader for your teams, customers and organisation.
Please note to be eligible for the CSP-SM certification you must satisfy the following criteria:
Hold a previous or current ACSM license
Complete the pre-class coursework
Be prepared to share you experiences of being in a Scrum team during the full two-day class
Demonstrate ALL the skills taught during the full two-day class
Keep a post-course journal which showcases how you have used the skills learned during the course
Our course has been endorsed by the Scrum Alliance based on teaching you:
Learn how to accelerate teamwork and team accountability in a new or established Scrum team.
Learn how lean concepts, complexity thinking and systems thinking can be useful to a ScrumMaster.
Learn how to coach using an understanding of psychological concepts that drive individual and team behaviour.
We always reserve some time to delve into topics and questions that you bring along with you – so come prepared!
Based on the challenging curriculum and concepts, the CSP-SM training is aimed at people already VERY experienced (at least 2 years) with the ScrumMaster role. You will be expected to fully participate in the class, and dedicate time to (and iterate on) your coursework element.
Candidates must hold a valid ACSM certification is order to apply for CSP-SM status, and are expected to be able to demonstrate a minimum of 2 years as a practising ScrumMaster.
What is a CSP-SM?
This course is endorsed by the Scrum Alliance, Inc (www.scrumalliance.org) and on completion entitles the delegate to claim a Certified Scrum Professional – Scrum Master (CSP-SM) license, valid for two years.
Is there an exam?
No. The CSP-SM accreditation is achieved by completing a multi-stage process.
Completion of a pre-class questionnaire
Attending the in-person two-day course and participating fully in the exercises and class discussions
Demonstration of ALL the skills taught during the two-day course
Submission of a post-class journal which showcases how you have applied those skills (within 60 days of course ending)
Is my booking refundable/transferrable?
Yes. We will issue a partial refund (course fee minus £200) if you cancel your booking 30 days before the course starts. However, cancellation (or no-show at the event) after this time you will result in you being charged the full amount due.
Where can I contact the organiser with any questions?
Get in touch with us directly if you have any more specific questions, and one of the team will be happy to help.
Course Info
Level: Advanced
Duration: 2 Days
View dates
Your trainer(s)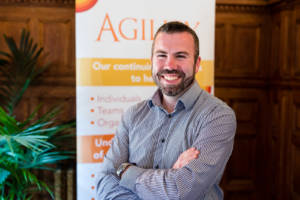 Paul is the founder of Agilify, has been an active Certified Scrum Trainer since 2006, and also became only the fourth UK-based Certified Scrum Coach in 2011.
Other Courses