Follow the Scrum Alliance's "Path To CSP" program with this Advanced Certified Scrum Master (A-CSM) class that will take your knowledge of Scrum and the Scrum Master role to the next level.
By building upon the core Scrum framework, we will help you move towards a professional and practitioner ScrumMaster level, allowing you to realise more of the untapped potential of you and your team.
This course is step 2 on the Path to CSP program, building on your CSM qualification and hands on experience as a Scrum Master. After completion of this course not only will you be a more effective Scrum Master but you will also be one step away from being a Certified Scrum Professional.
Please note to be eligible for the A-CSM certification you must satisfy the following criteria:
Hold a previous or current CSM license
Complete the pre-class assessment
Be prepared to share your experiences of being in a Scrum team
Attend the full two-day class
Complete a short post-class questionnaire (within 60 days)
Our course has been endorsed by the Scrum Alliance based on teaching you:
How to build the engagement, motivation and productivity of your agile team.
How to coach product owners, project managers and others for buy-in.
Techniques to energise your sprint planning sessions and retrospectives.
How to deal with difficult situations as a ScrumMaster.
How to increase the creative capacity of your Scrum team.
Strategies to help you enable change within your organisation.
We always reserve some time to delve into topics and questions that you bring along with you – so come prepared!
This A-CSM course is aimed at people already experienced with Scrum and the ScrumMaster role. To be eligible for the A-CSM accreditation, attendees must have undertaken CSM training. The class is kept small – no more than 9 people. You are encouraged to co-own and mould the agenda by bringing your own challenges, questions and areas of interest to the group to make the learning as personal as possible.
Feel free to call us on 0800 907 8565 if you are unsure if this course is suitable for you.
In order to attain ACSM status, candidates must have a previous or valid CSM license, and be able to demonstrate a minimum of 12 months experience as a practising ScrumMaster. You will be expected to share some of your experiences as a ScrumMaster during the class.
Full details of the course will be sent with your joining instructions shortly before the course date.
What is an ACSM?
This course is endorsed by the Scrum Alliance, Inc (www.scrumalliance.org) and on completion entitles the delegate to claim an Advanced Certified Scrum Master (ACSM) license, valid for two years.
Is there an exam?
No. The ACSM accreditation is achieved by completing a three stage process.
Completion of a pre-class questionnaire
Attending the in-person two-day course and participating fully in the exercises and class discussions
Completion of post-class research within 60 days of course ending
Is my booking refundable/transferrable?
Yes. We will issue a full refund if you cancel your booking 30 days before the course starts. However, cancellation (or no-show at the event) after this time you will result in you being charged the full amount due.
At our discretion, we may transfer your booking to another scheduled course date, providing payment has been received.
Where can I contact the organiser with any questions?
Get in touch with us directly if you have any more specific questions, and one of the team will be happy to help.
Course Info
Level: Intermediate
Duration: 2 Days
View dates
Your trainer(s)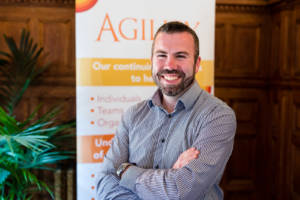 Paul is the founder of Agilify, has been an active Certified Scrum Trainer since 2006, and also became only the fourth UK-based Certified Scrum Coach in 2011.
Other Courses