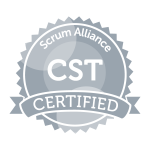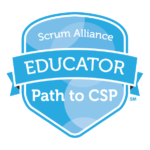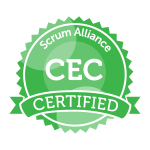 Paul offers frequent public training courses or can tailor a private course to suit your needs. Paul is also available as a coach and mentor for other ScrumMasters or coaches needing help to adopt or embed a more agile way of working.
From developer to ScrumMaster, and from ScrumMaster to Agile Coach he has been working with agile development teams since 2000.
Paul was part of the coaching team which took on one of the largest agile transformations to date in a major UK telecoms company in 2003 and since then has been training and coaching other organizations, teams and individuals across the UK and Europe.
His first book Improv-ing Agile Teams: Using Constraints To Unlock Creativity brings together two of his passions; coaching agile teams and improvisational theatre. The principles and practices are so closely linked, he uses them every day of his working and personal life. A regular speaker at agile conferences worldwide, Paul is also a long-standing member and contributor to the agile community.
You can follow Paul on Twitter and he also keeps a blog where you can read about more of his experiences, thoughts and observations as a Scrum trainer and coach.