It's been a couple of weeks since I returned from the Global Scrum Gathering in Lisbon – the first in-person conference I have attended post-COVID – so I thought I would diarise the event and share some of my thoughts on the time I spent there over a series of short blog posts. In this post, I will summarise…
Wednesday 18th October 2023 – Day 3
The final day. And now the tiredness of the long days and late nights is really kicking in! I decided to have a slower morning as a result and went out for a short run alongside the water. It was the energy boost I needed, and whilst running I passed a famous face. I had to double take, but I am SURE I ran past…. Eric Cantona!! The footballing legend was unmistakable despite his baseball cap, mainly from the trademark way he puffed his chest out as he walked! I didn't hassle him for a selfie, but I saw several TV cameras further along the promenade, so I can only assume he was taking a break from filming that morning.
Slightly starstruck, I ran back (up one of the many hills in Lisbon) to the hotel, showered, changed and returned back down the hill to the conference venue to catch the tail end of the keynote panel that morning.
Then it was time for my session on Increasing Empathy In Your Coaching. I was pairing with Jona once again for this session, but this time I was leading on the delivery. The session centered around some improv games and techniques that I use within my own coaching to increase levels of empathy through play. Emotions are not something many teams talk about freely, and as such, many teams I have coached find it hard to be "emotionally intimate". The games I introduced were aimed at broadening a team's emotional vocabulary and having some fun trying to access those emotions. The session was a great success for me, and I hope the attendees had as much fun as I did!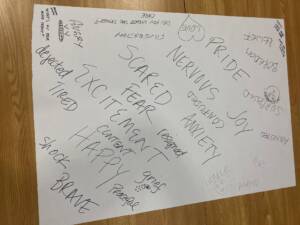 After that session was complete, I could relax a little more over lunch, and I found a seat with four of my longest-serving "clients" (who I now consider friends) from a company called Mayden, based in Bath. I started the company off on their Scrum journey about 7-8 years ago now  (I maybe wrong). Whilst I only dip in occasionally now and again for some coaching support, I have built genuine friendships with the teams and individuals who work there. The lunch conversation was so engaging that we all lost track of time and missed the next sessions! We waxed lyrical about post-COVID work environments and motivations and really put the world to rights. For me, that lunch conversation is what the gatherings are about – it's bandwidth to think slower and look through a different lens. Thanks for the lunchtime chat – Rob Cullingford, Claire Tuckey, Ruth Waterfield and Lloyd Katz.
Time was moving on, and the conference was brought to a close by the Gathering Team – a group of impassioned volunteers who provide their time and energy to help the Scrum Alliance deliver the gathering content and programme. I know from personal experience how hard that role is, so fair play (and thank you) to the Gathering Team.
After the closing remarks, it was time for goodbyes. Many of the faces I haven't seen since 2019 I would now be saying goodbye to until the next gathering, which for me will probably be Amsterdam 2023. Special mention to Falk Kuhnel – owner of possibly the best agile t-shirt I have ever seen! #agileinsultant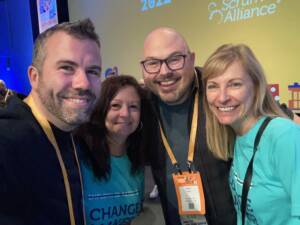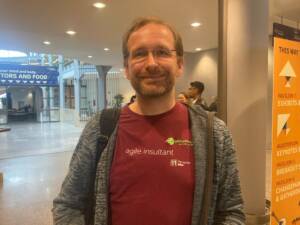 Rumours of long delays at Lisbon airport started to spread, but despite that we booked an Uber and started the long journey home. It turned out to be a MUCH longer journey than I had planned – I finally got into my bed at 3:30am UK time the following day! Nightmare.
AND I had agreed to drive my kids and their friends to a theme park at 8:30am that morning!! Wow – thank goodness for strong coffee!!
And that's the gathering diary entries complete! I hope the recap was useful and maybe inspired you to try a Scrum gathering for yourself… see you all in Amsterdam 2023!!