For many of us, making decisions is tough. And it's really tough when you are a 12-year-old child who is asked to choose between studying French or German as a second language at school. Those were the demands placed on my own son this week, so I thought I would share how he and I worked through that decision-making process together.
My son is an awesome human being. He is lucky enough to have many friends at school, he enjoys (almost all of) his subjects, and collects many "positive points" from his teachers on how he conducts himself in class. But this week he struggled, and by his own admission he doesn't enjoy making decisions – even when I ask him the simple question of what he wants to eat for his dinner!
In Year 8 at his school, my son is given the option to learn both French and German as a second language, with one of those subjects being taught as an after-school lesson to keep his options open. However, due to scheduling issues this after-school lesson clashed with his after-school rugby club – something he thoroughly enjoys and didn't want to give up.
So, in order to continue with his rugby, he would have to decide whether to study French or German as part of his regular in-school timetable. When I asked him to decide which he subject he would like to pursue, I was met with "I don't know. I can't decide." As a parent, I sympathised with him as it's a big decision which will impact his timetable for this year, and arguably also affect his future study options at school.
I didn't want to make the decision for him, so I put my coaching hat on, and tried to help him see the options more clearly and assess the merits of each choice. I grabbed a scrap of paper and a pen, and we sat down together after dinner on Monday night. Using a degree of stealth, (my son isn't up to speed on his agile jargon) I used a simplified version of Force-Field Analysis (as shown in the photo below) – a technique I first learned from one of my agile inspirations Esther Derby.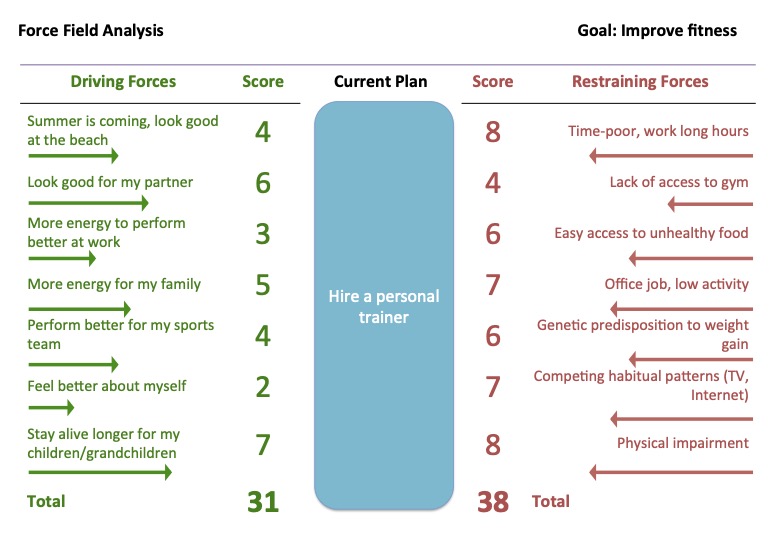 We started with French. I asked him to tell me all the reasons he believes doing French would be a GOOD thing. I tried to throw in different questions when the ideas slowed to reframe the word GOOD into different emotions such as "What do you ENJOY about French lessons?" and "What makes French an EASY choice?". We quickly established a list, and then moved onto the opposite question, "Why would choosing French be a bad decision?" and he quickly suggested a few reasons why. Again, when he struggled to find more ideas, I tended to inject a new question to invoke a different emotion or change his angle. "What makes French lessons DIFFICULT for you? What do you DISLIKE about your French lessons?"
We repeated the exercise for his German lessons too. Now we had a good list of positives and negatives of the two subjects. Yet my son still looked a little lost on which subject he would choose. I picked up on his shrinking body language cues and decided to delve a little further.
"I want you to give each of your ideas a score out of 10 based on how important you think these ideas are to you", I said.
That seems to resonate with him, and he immediately sat up in his chair. My son has a scientific brain (which he inherits from his mother!!) and he finds it easy to work with numbers. We went through all the notes and attempted to score them out of 10. Sometimes I would have to revise the question to help him understand and score appropriately, but we went through the entire list and now each positive and negative had a score. He enjoyed the maths in adding together the scores for each topic, and then I asked him "What are these numbers telling you?" – a question we took a bit too literally at first. So, I reworded to a more decisional question and asked again, "What are these numbers telling you about your choice between French and German?". That question alongside the data we had created seemed to help as his shoulders dropped slightly as he relaxed into his chair.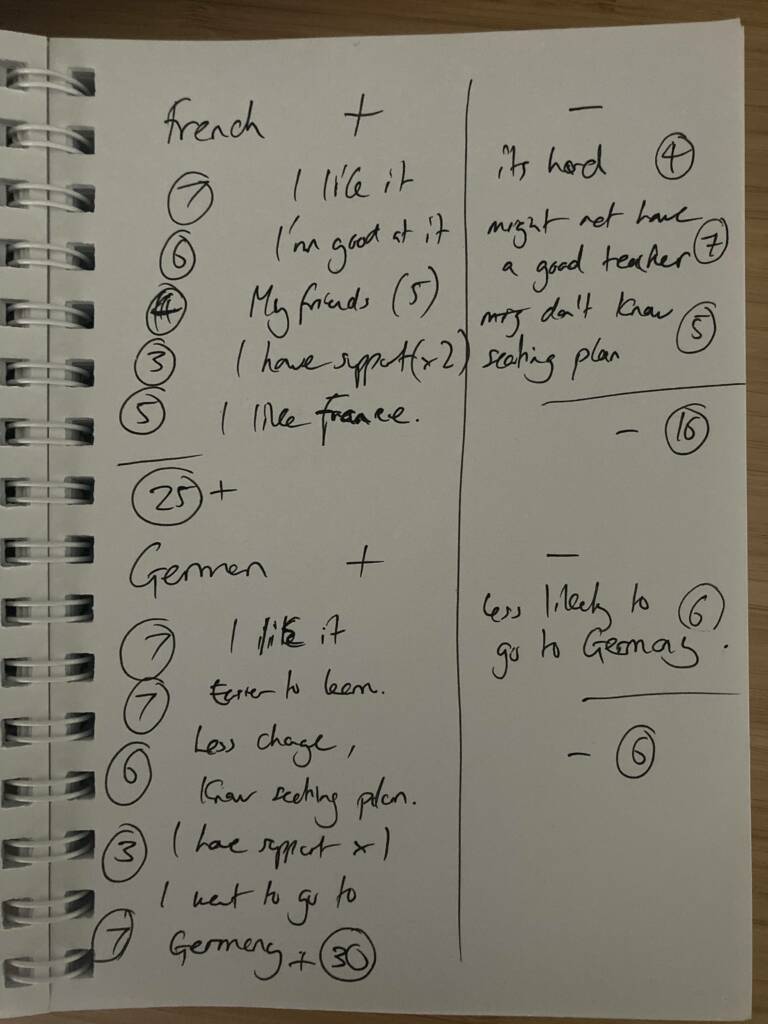 I like to think I helped him make his own choice and maybe also see a process he can apply to future decisions. We enjoyed working through a difficult more "emotional" decision and using a more scientific angle using numbers to score the data, really helped my son.
Hopefully this process might help you or someone you know move forward with a decision. But remember, for some of us (me included!) making decisions is tough.